Pick your Season and save up to 20% on tickets!
This season gives our "Something for Everyone" slogan even deeper meaning as we bring you tales from the wonderful land of Oz, electroluminescent puppetry, high quality multi-cultural performing arts, a quirky piano player and a beloved childhood classic.
Enjoy the convenience of the best seats in the house, delivered to your doorstep, by becoming a Season Subscriber today!
There are two packages to choose from when becoming a Season Subscriber. The Family Fun Series,where you sign up for ALL five shows and the Choose-Your-Own-Adventure, where you choose three or more shows.
What are the benefits of becoming a Season Subscriber?
20% savings on single tickets
Invitations to special artists events
Choose your own priority seating
Tickets delivered to your door or your computer
The ability to purchase additional single tickest at the Season Subscriber discount.
Download the Season Subscription form here and we will see you in the theater!
---
Advertise with AJT
Alaska Junior Theater has the capacity to reach 7,400 audience members at our public performances throughout the season. Advertising in our show programs provides an opportunity to feature your business to an ideal audience at a great value. Please join us as we bring five captivating professional theatre programs to Alaskan families for our 36th consecutive year. To preview our advertising contract please click here. For more information please call 272-7546 or email Alexis Sheeder.
---
AJT's Halloween Night Special Event
HALLOWEEN NIGHT SPECIAL EVENT!
Join Journey to Oz for a magical Halloween night performance and party your children will remember for a lifetime. Kids (and adults) come to the performance in costume because afterwards, all four levels of the Atwood Concert Hall lobby are opened for indoor trick-or-treating.
WANT YOUR COMPANY TO BE A PART OF THE HALLOWEEN PARTY?
Alaska Junior Theater's Trick-or-Treat Halloween party puts your organization or business in front of hundreds of children and their parents to pass out candy and your marketing materials within your booth space. It is a great way to distinguish yourself from your competitors because our audience are your clients and customers. Call 907-272-7546, email Alexis Sheeder for more information or download the Halloween Donation Form here.
---
Wells Fargo Challenge Grant
Double every dollar donated toward Alaska Junior Theater's Scholarships with the Wells Fargo Challenge Grant! Kid's attending Alaska's Title 1 schools have very few opportunities to experience the arts. High quality shows like those AJT presents are meant for ALL kids to see. We are so incredibly thankful for Wells Fargo for everything they have done for us and the children of Alaska! Donate now until November 15th and Wells Fargo will match your money! Donate online here or call 272-7546!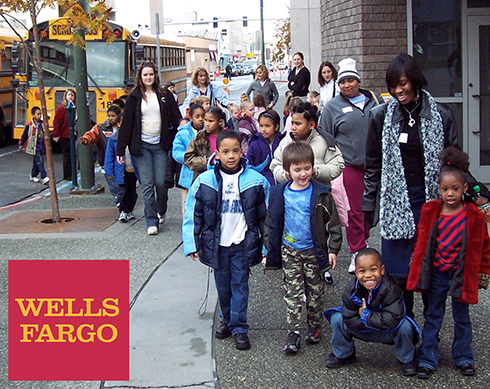 ---
Alaska Junior Theater is proud to sponsor Classics for Kids every Sunday at 7 PM on KLEF 98.1 FM.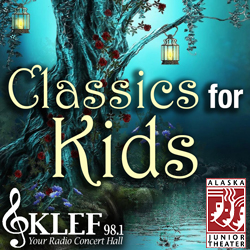 Sunday October 22, 7 PM Alaska time
Queen Elizabeth & the Queen's Pirate
Sunday October 29, 7 PM Alaska time
The Legend of Sleepy Hollow
Old Man Daniker
The Fiddler and the Dancin' Witch